Perfect Pan Fried Fish in Basil Lemon Butter Sauce
INGREDIENTS:
1 ½ pounds cod, tilapia, rockfish, or any other white fish you like

¾ teaspoon garlic salt (or ½ teaspoon salt + ¼ teaspoon garlic powder

⅓ cup flour

¼ cup olive oil

4 cloves minced garlic

pinch of red pepper flakes

3/4 cup low sodium chicken stock

4 tablespoons cold butter, cut into 16 cubes

3 tablespoons each: fresh lemon juice and fresh chopped basil, for finishing the sauce
DIRECTIONS:
SEASON: To get the best crisp on the fish, pat both sides of the fish with paper towels until dry. Season the fish with a small pinch of salt, making sure to flip and salt both sides. Place the flour in a shallow dish and season with garlic salt. Whisk to combine. Dredge the fish in the flour, making sure to coat both sides. Make sure to shake off excess flour.
FRY: Add the olive oil to the pan over medium heat and allow for it to heat through. When hot, fry the fish for 3-4 minutes flipping halfway. Depending on the thickness, you might need to cook the fish for longer until it's cooked through. Remove the fish to a plate and set aside.
SAUCE: There should only be about a tablespoon of oil remaining. If there is more, drain all but a tablespoon from the pan. Add the garlic into the skillet and fry in the oil for just 15 seconds. Add in a pinch of red pepper flakes, chicken stock, and lemon. Kick the heat to the highest setting, allow the sauce to reach simmer then reduce the sauce for 2 minutes. Lower the heat to the lowest setting, then add in two small cubes of butter and allow it to melt into the sauce slowly while you stir or swirl the pan with the handle. Continue adding two small cubes of butter at a time until all the butter is used up. Take your time here, don't rush this. Add in chopped basil and stir to combine. Plate the fish with cooked rice or roasted vegetables and top with basil lemon butter sauce!
© Recipe courtesy of Little Spice Jar.
DECEMBER WINE CLUB:
Fratelli Aresca
Cortese Dell'Alto Monferrato DOC
Piedmont, Italy

CRISP WINE STYLE
This light straw-yellow wine with green reflexes has a personal aroma of flowers and fruits with hints of apple and pear. The taste is fresh, dry and savory. 
Varietal: 100% Cortese
Analysis: 11.5-12% alcohol / volume
Vineyards: Located in Monferrato area. Manual harvest.
Winemaking: The hand-picked grapes are soft-pressed and then follows temperature-controlled alcoholic fermentation. Aged on the lees for 3 months in steel tanks.
Pairing: Ideal with sea food, fish and as aperitif
WINEMAKER'S NOTES
Cortese is one of the most cultivated vine variety in Piedmont. It has a delicate bouquet hinting at green apple and exotic fruity. The taste is fresh with notes of pear and peach. It pairs well with fish-based dishes.

ABOUT THE WINERY:
Located between Langhe-Roero and Monferrato, in a unique land recognized by UNESCO as a World Heritage Site, the vineyards are cultivated with respect to the traditions of these ancient lands and the uniqueness of the terroir. Learn more here. >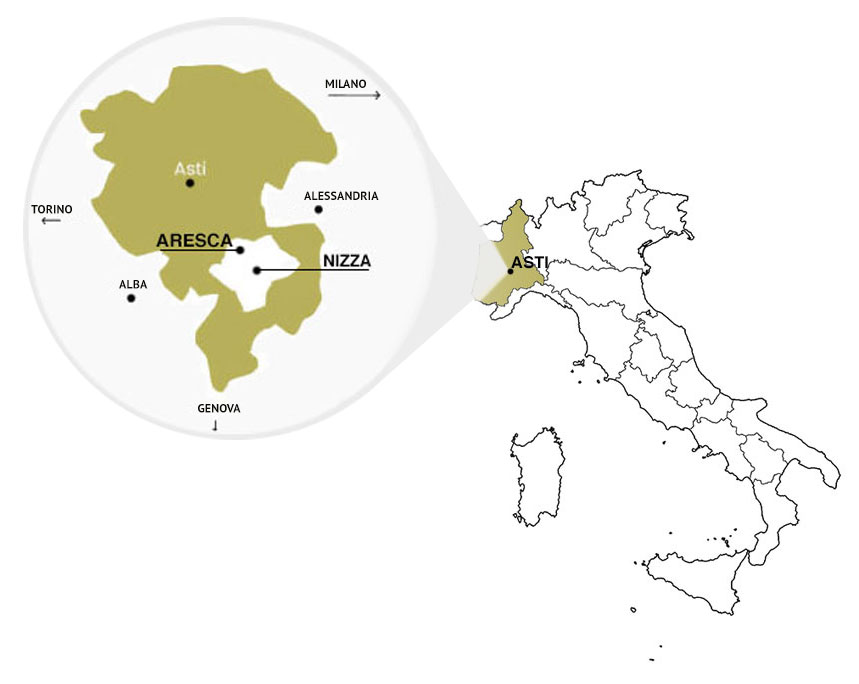 Information © Fratelli Aresca – All Rights Reserved.
Join our WINE CLUB and enjoy these amazing wines and pairing recipes each month. Plus, you'll receive 10% off all retail wine purchases!