Butternut Squash Gratin
INGREDIENTS:
3

 

tablespoons

 

unsalted butter

 

plus more for the baking dish

1

 

large

 

onion

 

thinly sliced

1

 

garlic clove

 

thinly sliced

1

½

pounds (about 1 large)

 

butternut squash

 

peeled, halved lengthwise, seeded, and thinly sliced between 1/8 and 1/4 inch thick

¼ 

teaspoon

 

grated nutmeg

fine sea salt and freshly ground black pepper

½ 

cup

 

heavy cream

¾ 

cup

 

fresh bread crumbs

¾

cup

 

grated Comté cheese

few

 

chives

 

finely chopped (optional)
DIRECTIONS:
Preheat the oven to 350°F (180°C). Butter a 10-inch (25-centimeter) baking dish.

In a large sauté pan or Dutch oven, heat 2 tablespoons butter over medium heat. Add the onion and garlic and cook until softened and translucent, 4 minutes.

Add the butternut squash slices and nutmeg and cook, stirring occasionally, until slightly tender, 5 to 8 minutes. Season with salt and pepper to taste.

Transfer the squash mixture to the baking dish. Smother with the cream, sprinkle with the bread crumbs, scatter the cheese on top, and dot with the remaining 1 tablespoon butter, cut into pieces.

Bake until the surface is golden and bubbly and the butternut squash is tender, 30 to 40 minutes. Serve immediately, sprinkled with the chives, if desired.
© Recipe courtesy of Leite's Culinaria.
NOVEMBER WISCONSIN WINE CLUB:
Anne de Joyeuse
Orchis
Chardonnay Pays D'OC
Languedoc, France

SILKY WINE STYLE
Produced in the Languedoc-Roussillion region in France, by Cave Anne de Joyeuse, this Chardonnay comes from the Vin de Pays D'OC appellation. Bright pale gold in color with scents of white flowers on the nose, evolving on the palate towards notes of white fruit and a fresh, citrus finish.  Fine and well balanced, it will accompany all sorts of fish dishes and will also be ideal as an aperitif. 
Varietal: 100% Chardonnay
Analysis: 13% alcohol / volume

WINEMAKER'S NOTES
Grapes were pressed directly on their arrival at the cellar, then vinified traditionally and fined at cold temperatures. They are then fermented under controlled temperatures.

ABOUT ANNE DE JOYEUSE:
The Anne de Joyeuse cooperative is named after a well-known 16th-centruy figure, the Duke of Joyeuse, who was bestowed the lordship of Limoux by Henry III.  The cooperative includes 350 winegrowing families and 3000 hectares under vine.  The producers of the Anne de Joyeuse company have constantly worked on the evolution of their vineyard since 1929. The wines are created in their state-of-art cellar with genuine passion, reflecting their love the terroir and desire to produce the best value possible.  For the last 25 years, Anne de Joyeuse has focused on the environment, reinforced in 2007 by the creation of their sustainable development charter, Protect Planet, helping cooperative producers implement sustainable winegrowing techniques.  Their vineyards are at the crossroads of four major climate zones and seven types of soil. This exceptional location shapes the quality and uniqueness of their wines. Learn more >

© Information and Photos provided by Anne de Joyeuse.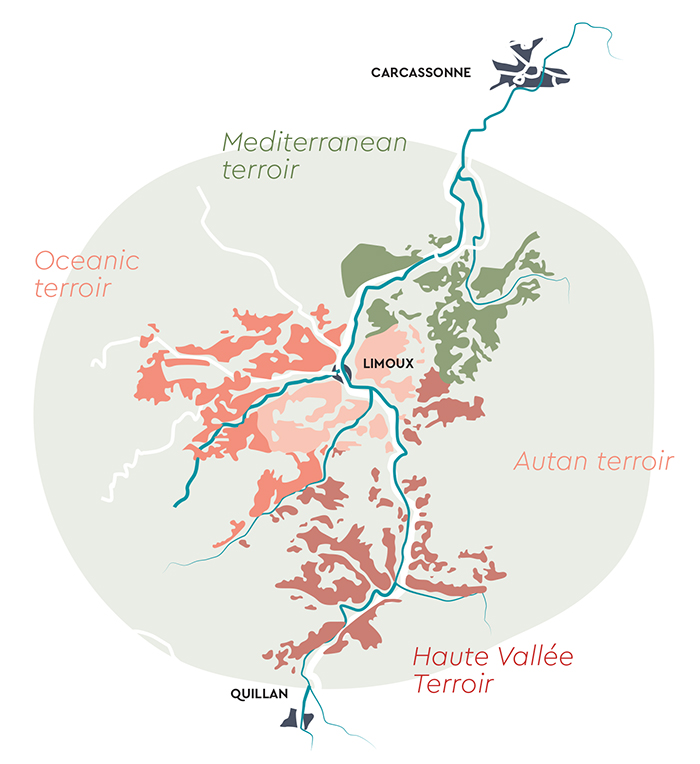 Join our WINE CLUB and enjoy these amazing wines and pairing recipes each month. Plus, you'll receive 10% off all retail wine purchases!