Vanilla Cheesecake with Berry Compote
INGREDIENTS:
For the Crust:

2

 

package

B

ahlsen Waffeletten cookies

2

 

cups

 

crushed butter crackers

 

(approx. 30)

4

 

tablespoons

 

butter,

 

melted

For the Cheesecake:

½

 

cup

 

whole milk

2

 

vanilla bean pods,

 

cut half lengthwise

2

 

pounds

 

cream cheese,

 

room temperature

1

 

cup

 

granulated sugar

4

 

large

 

eggs

1

 

tablespoon

 vanilla extract

4

 

ounces

 

white chocolate,

 

chopped

For the Mixed Berry Compote:

1

 

cup

 

raspberries

1

 

cup

 

blueberries

1

 

cup

 

strawberries

1

 

teaspoon

 

lemon juice

¼

 

cup

 

granulated sugar
DIRECTIONS:
Add the Bahlsen Waffeletten Cookies and crackers to your food processor and pulse until finely chopped; then slowly pour in the butter until well combined.

Press the mixture into the bottom of a lightly buttered 8-inch springform pan; then bake for 5 minutes. Remove and allow to cool.

For the Cheesecake:

Add the milk to a small saucepan; then scrape off as much of the vanilla beans into the milk as you can using the back of a knife. Add the vanilla bean pods to the milk; then warm over medium heat. Remove from heat and allow to cool.

Combine the cream cheese and sugar in your stand mixer until creamy; then add the eggs, vanilla and cooled milk.

Mix until creamy; then stir in the white chocolate by hand and pour into the cooled crust.

Place the cheesecake on a baking sheet and add 2 cups of water to the pan so that you create a water bath for the springform pan.

Bake on the middle oven rack for approximately 50-60 minutes or until top is lightly brown and the top springs back when gently touched. Remove from the oven and allow to cool before refrigerating.

Top with the mixed berry compote when ready to serve.

For the Mixed Berry Compote:

Add all ingredients to a small saucepan and bring to a boil. Remove from heat and allow to cool. Keep refrigerated until ready to serve.
APRIL WINE CLUB:
Rangel Ranch




Zinfandel




North Coast, California
BOLD WINE STYLE
This Zinfandel is medium-bodied with notes of dark cherry, raspberry and spice wrapped in gentle oak. 

Varietal: Zinfandel
Analysis: 13.5% alcohol / volume
pH: 3.51
TA: 0.57%
RS: 0.51%
Pairing: BBQ, smoked cheeses, salami, spicy cuisine, and cheesecake with berry compote
Winemaking:
Stainless steel fermentation at 90ºF; daily pump over, aged 18 months in American Oak barrels.
ABOUT THE WINERY:
Rangel Ranch focuses on the traditions of their family making and enjoying food friendly wines. Their wines reflect their family history and heritage in every bottle of their Napa County and North Coast releases. Vintage to vintage, winemaker, Paul Scotto, focuses on wine profiles that have held wide appeal through the decades and remain true to the Rangel family traditions. The reds are oak accented with soft tannins and ready to enjoy right away; while the whites are unoaked, crisp and medium bodied.
The family's vinous heritage and history dates back to 1883 when Salvatore Dominic Scotto, an officer in the Italian Navy, began making wine at his home on the Island of Ischia, just off the coast of Italy.  In addition to making wine for his family (a long-held custom in Italy), Salvatore also treated his friends and neighbors to the fruits of his labor. 
Great-great grandpa Salvatore passed his skills along to his son Dominic, who migrated to Brooklyn in 1903 and continued the family's winemaking tradition in America. He carried on the Scotto heritage with his sons who sold their father's homemade wine in five-gallon crocks from the family's horse drawn cart. After Prohibition, Anthony Sr. and his older brother Sal created Villa Armando (nicknamed Rustico).  Rustico is still produced today and has filled 200,000,000 glasses since its inception, making it one of California's oldest wine brands.
Today Scotto Cellars is a 5th-generation family-owned and managed wine producing company.  They take pride in treating team members not only as collaborators but also as family members who are encouraged to think creatively and live with a can-do attitude. For five generations the Scotto family has embraced the Old World traditions of sharing meals and celebrating meaningful moments with friends.  Wine has always been a centerpiece of these events and a reflection of Scotto's Italian heritage they so proudly embrace.  Read more >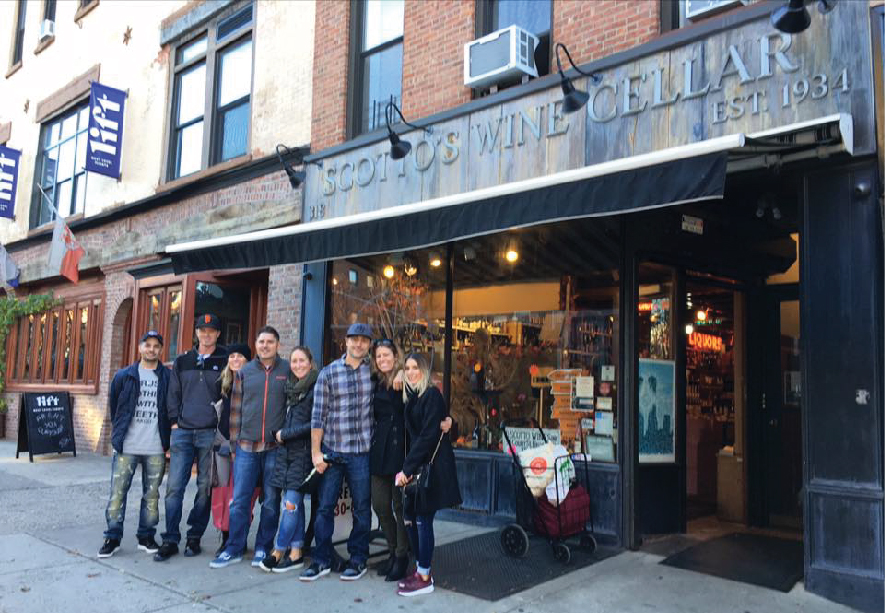 Information © Rangel Ranch – All Rights Reserved.
---
Join our WINE CLUB and enjoy these amazing wines and pairing recipes each month. Plus, you'll receive 10% off all retail wine purchases!