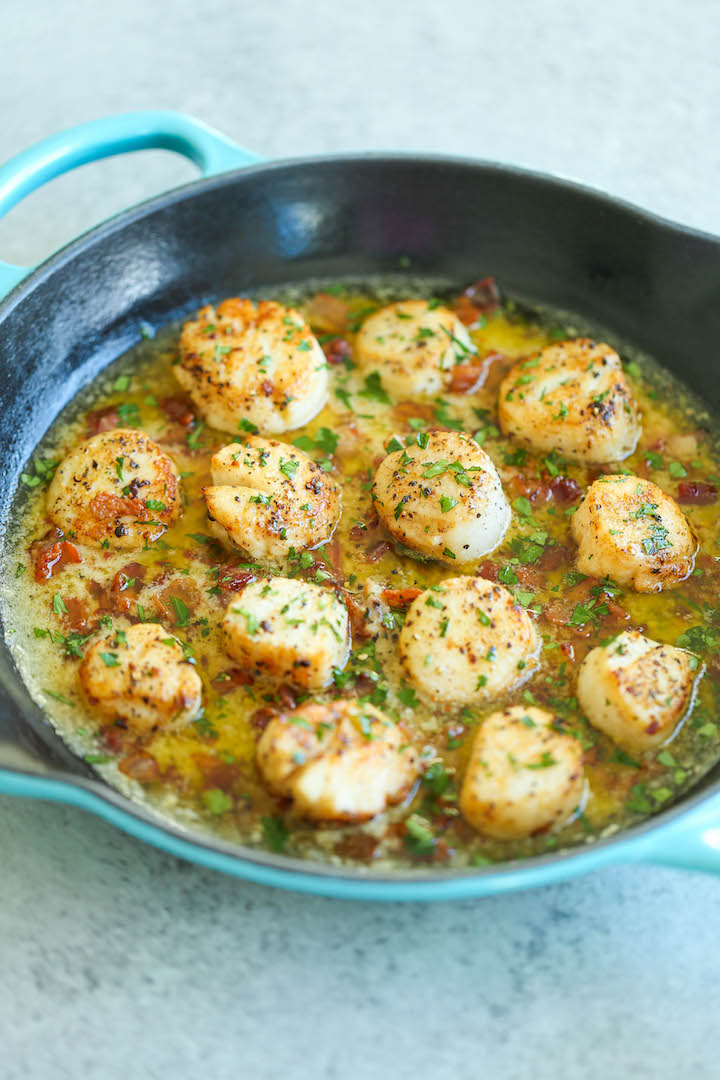 INGREDIENTS:
• 4 slices bacon, diced
• 1 pound scallops, rinsed, patted dry at room temperature
• Kosher salt and freshly ground black pepper, to taste
• ½ cup unsalted butter
• 3 cloves garlic, minced
• ½ teaspoon dried oregano
• ½ teaspoon dried basil
• ½ teaspoon crushed red pepper flakes, optional
• ½ teaspoon dried chipotle powder, optional
• 2 tablespoons chopped fresh parsley leaves
DIRECTIONS:
• Heat a large skillet over medium high heat. Add bacon and cook until brown and crispy, about 6-8 minutes. Drain excess fat; reserving 1 tablespoon in the skillet. Transfer bacon to a paper towel-lined plate.
• No need to rinse the pan. Wipe clean the skillet and add half the butter to melt over medium heat. Add scallops to the skillet in a single layer and cook, flipping once, until golden brown and translucent in the center, about 1-2 minutes per side. Spoon butter on top. Set aside and keep warm.
• Melt remaining butter in the skillet. Add garlic, oregano, basil and red pepper flakes; season with salt and pepper, to taste. Cook, stirring frequently, until fragrant, about 1-2 minutes. Stir in bacon and scallops.
• Serve immediately, garnished with basil, chipotle pepper power, if desired. © Recipe courtesy of Chungha Rhee.
Martellotto Winery
Santa Ynez Valley
Viognier
Santa Barbara, California

Viognier hails from the Rhone Valley in south France. At the Zaca Mesa vineyard in Santa Ynez, the grape is farmed to perfection. Truly art in a bottle, Martellotto wines are expertly crafted and carefully blended from personally sourced grapes from the central coast of California. An active member of the Santa Barbara Vintners Association, Martellotto Winery understands the importance of being a responsible winemaker and institutes sustainable winemaking practices and processes whenever possible. From Greg's winemaking roots in Italy, (and his nonno's New York basement wine during Prohibition), to production in California's Central Coast, Martellotto wines remain consistently vibrant and a joy to share. Bone dry and luscious, this Viognier is a perfect aperitif wine. Exotic aromatics, it's ideal to pair with seafood and salads. Lush, lovely and enticing. One taste and you'll be hooked.
"Bottled after ten months, the Viognier explodes with freshness, vibrancy, and sunshine. The tropical aromas of honeysuckle, white peach, and dried apricot invite flavors of Meyer lemon and honey-crisp apple." – Greg Martellotto, winemaker

Winemaker: Greg Martellotto
Appellation: Santa Ynez Valley, California
Varietal Blend:  Viognier
Analysis: 14.5% alcohol / volume
Critical Acclaim: Reviewed and approved by Doug Frost, Master Sommelier and Master of Wine